Back to the list
Andrzej Bartkowski, President of the Mazurkas Group, awarded the Gold Cross of Merit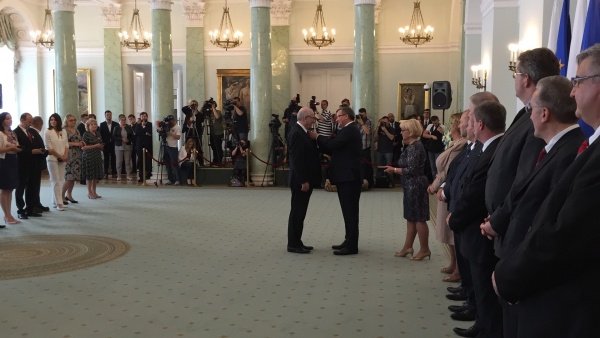 On 1 July 2015, Mazurkas Group President Andrzej Bartkowski received the Gold Cross of Merit from the President of the Republic of Poland Bronisław Komorowski, for his contribution to the promotion of culture and his achievements with regard to the development of entrepreneurship and tourism.
It is a great honour for me to receive the Gold Cross of Merit from the President of the Republic of Poland, in such distinguished company of creators and patrons of culture. Passion and enthusiasm have been guiding me all my life. I feel fulfilled professionally and in my social activity, although I still have quite a few things to say. What makes me glad today, however, is that a voice of recognition comes to me from beyond, one could say. It's a source of great satisfaction.
I am extremely glad that information about our cultural project FORUM HUMANUM MAZURKAS, which we have been successfully implementing for over 3 years now, has reached the Presidential Palace. FORUM HUMANUM MAZURKAS is an artistic haven of ours. It's a project by means of which we want to show that art can also be present in business, as a topic for conversation, discussion, exchange of thoughts, relaxation and entertainment, which are creative at the same time. The famous figures we've seen on our stage have so far included Krzysztof Penderecki, Bernard Ładysz, and many, many others. The artists of the Lviv Theatre of Opera and Ballet gave their first Polish performance on stage at MCC Mazurkas, presenting suites from the most beautiful ballets ever. Every edition of FORUM HUMANUM MAZURKAS is accompanied by a preview of a painting or sculpture exhibition. These are some very significant artistic, cultural and social events, with 600 to 1,000 people attending, subsequently watched by many thousands of people on the Internet, because every concert we hold, obviously always following the pro bono formula, is recorded professionally on video. The recordings are also available on YouTube under Forum Humanum Mazurkas.
We are patrons of these very important artistic events and we want to encourage Polish business to undertake similar actions, following our slogan "art won't defend itself". The promotion of culture and art is my hobby. The honour, however, which Mr President bestowed on me is related, apart from the "contribution to the promotion of culture", also to "achievements with regard to the development of entrepreneurship and tourism". It is in the latter field that I have been operating throughout my adult life. Tourism and its mission are my joy and my fulfilment. The MAZURKAS project, which is already 25 years old, has brought several million foreigners to Poland, at the same time sending several hundred thousand Poles abroad and giving work to several thousand employees, and continues to be an employer for several hundred people. At this point, I would like to express my utmost and frank gratitude to Andrzej Hulewicz, my friend, partner and co-creator of this great big adventure of ours, which has become known in Poland and across the world under the name of Mazurkas. I also wish to emphasise the huge role of our staff and thank them all cordially. These are top-class specialists whose talent, cleverness, predisposition and enthusiasm have been keeping the company in good shape for 25 years now. Although I will leave some of the glory to myself, I nevertheless need to say that the sweet burden of my Gold Cross of Merit also needs to be carried by all Mazurkas employees and by my long-standing partner, Andrzej Hulewicz. Using the occasion, I would like to thank them very much for this.
Andrzej Bartkowski
Mazurkas Group President
The Cross of Merit is a decoration established in 1923. It is given to people of merit who have been active beyond the scope of their ordinary duties, bringing significant benefits to the State or to its citizens. There are three grades: Gold Cross of Merit (1st grade), Silver Cross of Merit (2nd grade), Bronze Cross of Merit (3rd grade).
Back to the list