Back to the list
MCC Mazurkas Conference Centre & Hotel is Polish Economy Ambassador.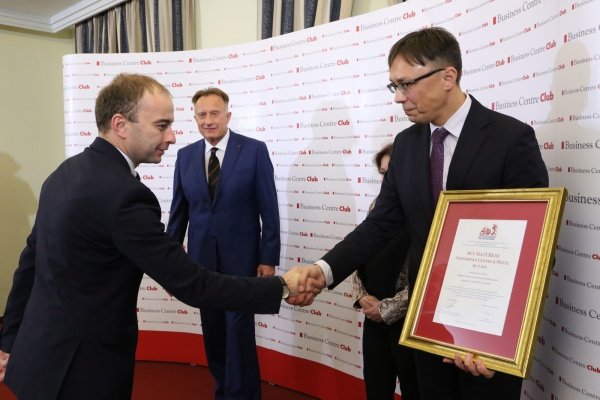 Once again, MCC Mazurkas Conference Centre & Hotel was among the winners of the Polish Economy Ambassador competition in the Highest Quality category. The award was collected from the Director representing the Ministry of Development, Grzegorz Mickiewicz by General Director of MCC Mazurkas and Mazurkas Cateirng 360, Michał Kozak.
We are happy that once again we were granted thetitle of the Polish Economy Ambassador, especially that the category of the competition id the Highest Quality, which is the biggest value in our services – underlines Michał Kozak.
The competition Polish Economy Ambassador is organised by the Business Centre Club under the Honorary Patronage of the Minister of Economy. On September, 28 in the Lubomirski Palace in Warsaw, which is the seat of BCC, 64 Ambassadors were announced in 6 categories: Exporter, Global Company, Creator of XXI Century's Solutions, European Brand, Highest Quality, foreign Companies' Partner. The Polish Economy Ambassador competition is a Poland-wide, non-commercial project whose tasks include recognition and promotion of entrepreneurs successful in international markets, promoting high economic and financial standards and good business practices in contacts with foreign entities, as well as strengthening collaboration between enterprises and representatives of Polish institutions responsible for the promotion of Poland.
Back to the list