Back to the list
New taste combinations in George Sand Restaurant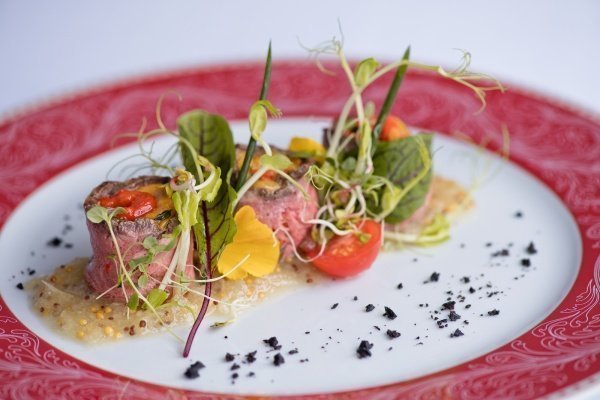 In October new menu was launched in George Sand Restaurant. The Chef Mariusz Pietrzak and the Creative Chef Jakub Budnik propose new dishes and interesting taste combinations.
While creating new menu, the Chefs were inspired by the French and Mediterranean cuisine, however not forgetting the traditional Polish courses, which they enriched with modern elements of the fusion cuisine. In the new menu we may find: hand-chopped beef tartare served with quail egg, marinated vegetables, anchovies and red caviare, cream of porcini mushrooms flavoured with Zubrowka and thyme with addition of truffle foam or roasted duck marinated in oranges and wine apples with saffron pear stuffed with cranberries accompanied by beetroot gnocchi on a wine-spicy sauce. There are also new proposals such as king prawns and Black tiger prawns and fresh fishes: trout, sole and zander.
Restaurant guests may also take a fancy in season vegetables of the highest quality, mushrooms, aromatic herbs and edible flowers. New proposals in menu are, among others: French quiche lorraine on blanched zucchini with young sprouts and addition of balsamic sauce, zander cooked in white wine and served on risotto of smoked celery accompanied by blanched vegetables and butter sauce with addition of mussels, risotto with roasted pumpkin with fresh sage, arugula and lime. Also wege courses are present in the new carte.
"George Sand Restaurant is starting the autumn season with exceptionally intriguing menu full of unique taste combinations." - underlines Mariusz Pietrzak.
Back to the list