Back to the list
Podróżuj służbowo i o nic się nie martw!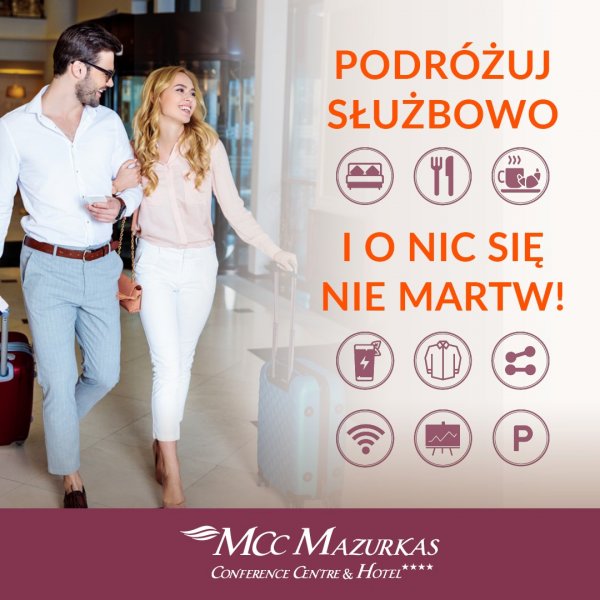 Nasz hotel został zaprojektowany głównie z myślą o Gościach biznesowych.
Doskonała lokalizacja, jedynie 6 km od Warszawy, w bliskim sąsiedztwie zjazdów z tras A2 i S8, gwarantuje komfort i łatwość dojazdu z całej Polski, bez konieczności przejeżdżania przez zatłoczone centrum stolicy.
Dobrze wyciszone pokoje, duże biurka oraz szybkie, bezpłatne łącze Wi-Fi zapewniają komfortowe warunki pracy w podróży służbowej.
Wyśmienita i zdrowa kuchnia, sauna i siłowania oraz najwyższej jakości łóżka są gwarancją doskonałej regeneracji po ciężkim dniu!
Zapraszamy do rezerwacji https://booking.profitroom.com/pl/mazurkashoteluppercrs/details/offer/29517?currency=PLN
Podróżuj służbowo i o nic się nie martw!
Pobyt w 4 gwiazdkowym hotelu już od 310 pln za dobę!
Na powitanie energetyczny cocktail od Szefa kuchni
Nocleg w komfortowym pokoju z dużym biurkiem do pracy
Śniadanie w formie bogatego bufetu
Aromatyczna kawa z ekspresu na drogę gratis
Prasowanie koszuli gratis
Po 20 wykupionych pakietach, 21 nocleg gratis
Wcześniejszy check in (od godz. 12:00)
Późniejszy check out (po godz. 14.00)
Możliwość drukowania i kserowania dokumentów (do 20 stron gratis)
Bezpłatna woda, kawa i herbata w pokoju
Bezpłatne WiFi
Bezpłatny parking
Sala konferencyjna na biznesowe spotkanie z 20% rabatem
Back to the list